Design Comes First
Creating a custom home with Mauna Loa Cedar Homes & the PAN ABODE team gives you the opportunity to have the style of home that you have dreamed of. It is your opportunity to step out of the mundane, and into the lifestyle that is uniquely you. We support three ways to discover your ideal home; either through choosing a plan from PAN ABODE's catalog "The Idea Book" and modifying it to suit your means, Custom Design your home with our Architectural Design Service, or bring your own plan.
The Custom Home Guide
PAN ABODE Cedar Homes offers an abundance of plans and images in our catalog called "The Custom Home Guide." Comprised of two books, the "Idea Book" and the "Photo Album", It offers unique designs which include architectural styles such as chalets, ramblers, ranch homes, contemporary homes, and many other types of building configurations. Our Custom Home Guide provokes thought and motivates the designer in all of us.
As you can see, many decisions and a lot of thought go into the design and development of your home. PAN ABODE's design team prides itself on assisting you through this process while providing cost effective and creative solutions to meet all of your needs.
Building Systems
At PAN ABODE, you not only get to design your custom home, you also get to choose the building system. PAN ABODE offers 3 different building systems to meet your criteria.
Phoenix Timber is the strongest wood building system in the world, and perhaps the most beautiful.
The Classic Timber system features air-dried solid timbers of Western Red Cedar that interlock to create a timeless look of beauty.
The Post & Beam building system is characterized by expansive open designs, cathedral open beam ceilings and Western Red Cedar siding.
Custom Design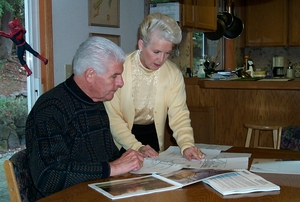 Designing and building your home is not really about construction details and materials. It's really about creating an environment that serves all of your aspirations for style, stimulation, comfort, safety and personal associations. It's about creating a place that renders a deep feeling within you that says this is my home as you approach, enter and live in your custom home atmosphere. It's about appearance, and how you feel about your home.
A PAN ABODE design professionals will help you create your home, incorporating your own features and style. They can guide your design considerations and decisions, or they can collect your impressions and produce a perfect fit. Together, we will produce a home that meets your unique needs and desires. You can follow architectural, contemporary, craftsman, prairie, southwest, Spanish, French, Tudor, etc. Or, you can create a home of your own definition. Whichever path you take, it will be your creation, a representation of your own personal style. Just ask about our Custom Architectural design Service.
Commercial Design
Over the years, PAN ABODE has created a diverse line of recreational cabins and multiple-unit buildings. We have provided buildings for families simply wanting a small retreat cabin in the deep woods to multi-story commercial structures in Alaska. The atmosphere of a PAN ABODE is ideal for any lodging or bed & breakfast project you may be considering.
Cabins
Over the years, PAN ABODE has created a diverse line of recreational cabins and vacation homes. We have provided buildings for families simply wanting a small retreat cabin in the deep woods to recreational retreat building complexes in Alaska and remote areas. Inquire about our cabin line.
Find out more about Cabins at PAN ABODE
Additions and Remodels
Pan Abode has produced homes for over fifty years. Because solid timber cedar homes age so gracefully, many current homeowners wish to expand or remodel. We understand that a home designed and built in the 50's will have different features as compared to those built only a few years ago. Our design team can assist you in creating virtually any style addition, remodel or expansion you want. Whether your home is a PAN ABODE or not, we can create the atmosphere that only a PAN ABODE can provide.